Artwork Auction to Support Danny 'Magoo' Chandler
Jan 21, 2010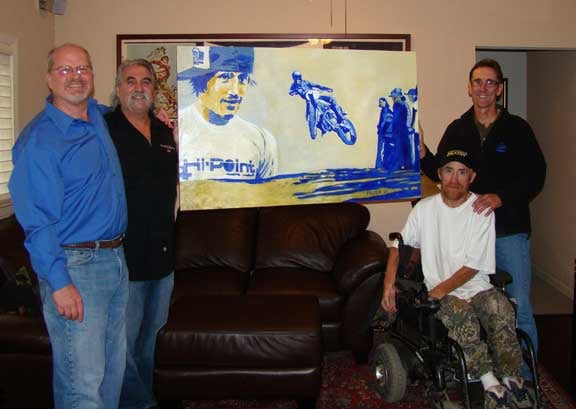 Renowned motorsports artist Kelly Telfer is the latest legend to join in the effort to help out motocross hero Danny "Magoo" Chandler by creating a special painting of a young Chandler flying his KTM around Argyll Cycle Park circa 1976. The original 30"x48" acrylic paint on high-quality canvas is being sold via an online auction with 100% of the proceeds to the Magoo Van Fund Charity organized by MXGP World Champion Brad Lackey.
The painting features Chandler cranked over in mid-flight on his 1975 KTM/Penton which was raced out of Mike Collins' Dirt factory in Concord, California. This bike featured a Carl Cranke motor, Fox Air Shox and a totally fearless pilot in Chandler. "The painting captures that very successful and fun time in my racing career," recollects Magoo. "That really brings me back!" says the Overall Champion of both the 1982 Motocross and Trophee des Nations.
"The retro painting style is a perfect way to showcase Magoo's innovative riding style and everything he has done for the sport," adds Brad Lackey, America's First Motocross World Champion. "Magoo was doing freestyle motocross decades before the sport was even invented," Lackey notes. Limited edition prints of the painting signed by Magoo himself will also be offered via another online auction.

Artist Kelly Telfer met with Magoo, Brad & Lori Lackey and Billy Daprato (Chandler's longtime race mechanic and friend) to present the painting to Magoo. Danny was very impressed and pleased with the artwork, and the painting brought back great memories from that era. Magoo, Brad, and Billy reminisced about the early days of motocross, sharing some laughs and racing stories.