Bill Warner and Kelly Telfer present original paintings to Jacky Ickx, Jurgen Barth and Hurley Haywood at Amelia Concours d'Elegance, 2019
Mar 10, 2019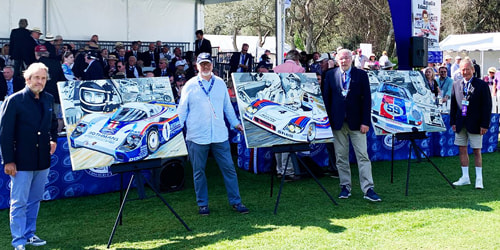 Bill Warner (founder of the Amelia Island Concours d'Elegance) and I surprised three great race car drivers with my original paintings at the Amelia Concours d'Elegance on March 10, 2019. Jacky Ickx, Jurgen Barth and Hurley Haywood each received my original painting of them, showcasing each of their racing careers.
"It is hard to believe that March 2020 will mark our 25th year.....our Silver Anniversary. I am thrilled that my friend, Mr. Roger Penske has agreed to be our honoree and to that end, we will have twenty-five of the cars he drove and the cars of Team Penske on the 'Field of Dreams.' Twenty-five years of a great ride."
-Bill Warner
Jacky Ickx, Jurgen Barth and Hurley Haywood are now members of Telfer's Ambush Art Club, along with Mark Pribanic, Jerry Cvitanich, Alicia Telfer, Howard Kaeding, Danny 'Magoo' Chandler, Tony Stewart, Steve Lewis, and others!

Photo Credit: Sean Fannin