'Bruce Anderson - Porsche 911 Guru' - art sales proceeds to Stephanie Anderson
May 12, 2013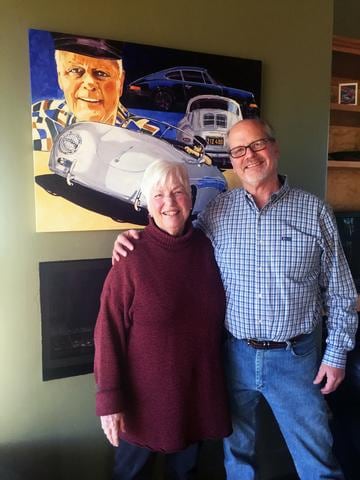 Stephanie Anderson, left and Kelly Telfer in front of the original painting of Bruce.
On February 9, 2013, the Porsche world lost a great friend, enthusiast, advocate and mentor, Bruce Anderson
In the early morning hours of February 9, 2013, the Porsche world lost a great friend, enthusiast, advocate, and mentor. Bruce Anderson is best known as the author of The Porsche 911 Performance Handbook, currently in its third edition and "The Bible" to all 911 enthusiasts. His additional journalistic achievements include regular columns in Excellence as Technical Editor, Flat Six (France), 911 Porsche World (UK), 911 (Japan), and Christophorus.
"Bruce Anderson, Celebration of Life" event held at Bruce Canepa Design on May 12, 2013
Canepa Design, Scotts Valley, CA hosted the 'Bruce Anderson, Celebration of Life' event on May 12, 2013. In attendance were many notables in the Porsche community and friends who knew and worked closely with Bruce over the years, including Bob Garretson, Jerry Woods, Alwin Springer, Dale Miller, and others.
Original Painting to Commemorate Bruce Anderson
With Stephanie Anderson's input, Kelly Telfer created an original painting to commemorate Bruce Anderson. "Kelly Telfer has done an amazing job of capturing the essence of Bruce with that signature smile and impish eyes," Stephanie remarked, "Including the two 356's he owned and cherished plus the 911 Project car shows that Bruce's love of Porsche crossed all model lines. I must say I was a bit overwhelmed when I saw Kelly's painting. Bruce would have loved it." The painting was unveiled at the 'Bruce Anderson, Celebration of Life' event. The 30" x 40" original acrylic on canvas painting will be offered at a silent auction (in the near future, date TBD), with all proceeds going to Stephanie.
'Bruce Anderson – Porsche 911 Guru' Limited Edition Art Prints
'Bruce Anderson – Porsche 911 Guru' is also being offered as a limited edition run of 911 prints- with net proceeds going to Stephanie Anderson. The cost for each print is $90.00, plus shipping. Each print measures 16" x 20" inches and is printed with archival inks on Epson Hot Press Bright acid-free, 100% cotton fiber archival paper. Every giclee (fine art print) is signed, numbered, and titled by Kelly Telfer, and comes with a Certificate of Authenticity (COA) issued directly from his studio. All prints are handled with archival care throughout printing, signing, handling, and shipping. Click here to order your Bruce Anderson Art Print.
All domestic shipping is $12 (via Priority Mail)- this includes shipping, packaging, and insurance. Please allow up to 2 weeks for your order to be processed and shipped. International shipping is $39. This includes shipping and packaging; insurance will be provided where available. Buyer pays additional costs such as duties, taxes, and customs clearance fees. Please allow up to 2 weeks for your order to be processed and shipped.
1957A Speedster
Bruce purchased the Speedster in 1961 with the idea of setting it up for auto-crossing. Originally red, Bruce had the body painted silver. He hot-rodded the engine; bumped out the fenders to take on bigger tires. He successfully raced it in the Zone 7 Autocross and garnered First Overall Wins and Top Time of Day in most of the events in which he participated. Unfortunately, that car was wrecked at an autocross when his wife missed the brake coming across start finish and sailed through a chain link fence hitting a sycamore tree head on….. It sat for years at a body shop and when it was obvious that it was not going to get fixed, Bruce sold it to Dan Rowzie in West Virginia who restored it and "made it his own"… it is now black and beautiful.
1964 SC GT Coupe
Bruce purchased the car in 1970. He then proceeded to concours the car. He meticulously restored everything on the car and entered it in many Concours d'Elegance shows. In 1971 he won First Place in his Class at all venues he showed, including the Hillsborough Concours and the famed Pebble Beach Concours. Once he did all he wanted to do with the car, he sold it to go onto another project and to purchase a 1970 914-6.
911 Project Car
1972 911 donor car: Sepia Brown Sportomatic with Sunroof. Originally belonged to a former PCA National President, Burt Propp. Car was rust free. Bruce was going to extensively update it with all of the things guys would want to do to their own 911's.
He planned to make the car look like a 1973 Carrera RS externally. It was to be power by a modified 964 engine, modified to 3.8 liters and producing over 300hp. He purchased a G50 transmission (Quaife differential, stel syncrhos) and suspension parts front and rear including front cross member, A-arms and rear aluminum banana arms, and front and rear brakes from a 1986 Carrera. He also purchased a steering rack from a 1986 911 with a quick ratio steering rack that was made by Quaife. He had 8" and 9" Fuchs by 16" wheels; Pirelli P Zero tires 205/225 and 245. Carbon fiber body panels from Applied Racing Technologies in Texas for hood, doors, and engine lid as well as their Tuf-Fak windows to reduce the weight of the car. Car was to be painted a BMW Blue. The project was sold, and not sure of the current status of the car.
A special thanks to Stephanie Anderson for the information on Bruce and his cars...