Mark Genis - Porsche collector and Kelly Telfer original painting collector
Jan 01, 2013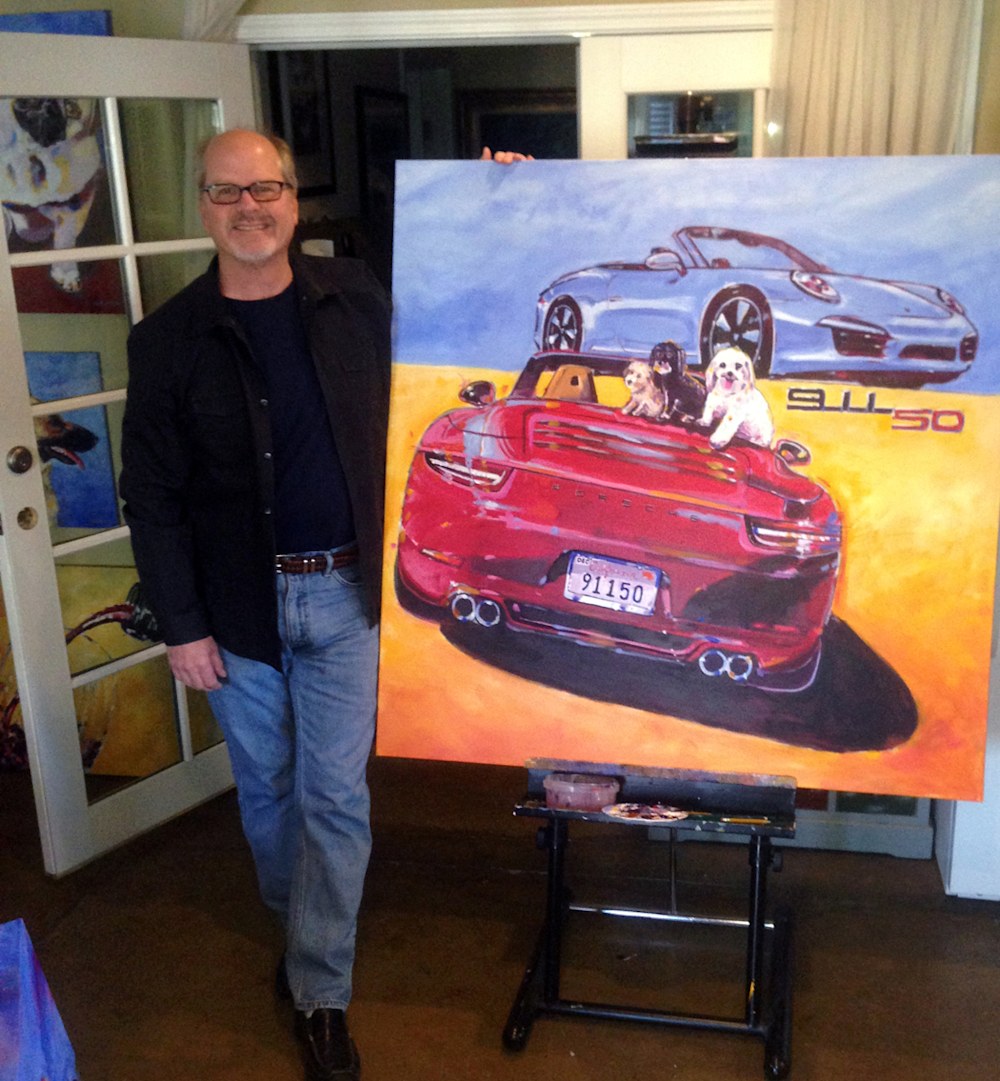 Mark Genis began collecting Kelly Telfer Original paintings in 2009. Mark Genis is the Vice President and CFO of Eventmakers, located in Temecula, CA. Eventmakers, established in 1990 is a global event production, exhibit and destination management company specializing in connective marketing through live events, trade show booth design & fabrication, convention logistics, business theater, and destination management. Eventmakers has been ranked by Special Events Magazine TOP 50 Events Companies of the World 12 consecutive years. Click here for more information on Eventmakers.
Mark first purchased two paintings and commissioned a third in 2009; the 48" x 48" - '1968 Porsche 911R' acrylic on canvas painting, and the 30" x 24" - 'White Early Porsche 911' painting. Mark commissioned a 60" x 48" painting of his 993 red Porsche, which highlights two views of his car. In 2013 Mark commissioned the 48" x 48" - 'Porsche 50th 911 Anniversary' painting which features Mark and Bridget's three dogs on the rear of their red 50th Anniversary Porsche convertible. Lucky dogs! In 2014, Mark purchased the brand new 30" x 24" Telfer original painting (featuring an early blue 1960's VW bus with flowers streaming off it) titled 'Flower Power'. Fine Art Prints of 'Flower Power', and all Telfer's paintings are available on his website: www.KellyTelfer.com
Mark, in his own words, says: " I have been a Porsche Collector for over 20 years and collect Porsche Art and Model Cars. I have built two 1970's Porsche 911 S's from the ground up. I've owned twenty-seven Porsche cars; from 993's, 964's 997's and 991's. I am a member of Porsche Club of America (PCA), and I am an avid collector of Kelly Telfer's original paintings - there's definitely no other substitute"
Thank you very much, Mark!